Learn how to play the gongs at a one2one gong master training on Ibiza or by online training, with Gong Master Konstantin.
one2one Training
One2one gong master training is divided into two parts.
Both parts are divided into two sets of 2 hours each.

Hourly fee: 100,- Euro
Payment: 50% upfront and 50% at the start of the training
Part 1: Theory
Duration: 4 hours

You will get a deep insight into the world of frequencies, the physical, mental and spiritual approach about playing the gongs.
Konstantin is researching frequencies and their abilities for nearly two decades and has even longer experience in performing live on stage and various situations.
You will learn about the gongs and get the know-how basics of the stroking techniques and perfect setup.
There is a lot to learn about the holistic effects of gong meditation and why the performing gong artist plays the most important role in the process.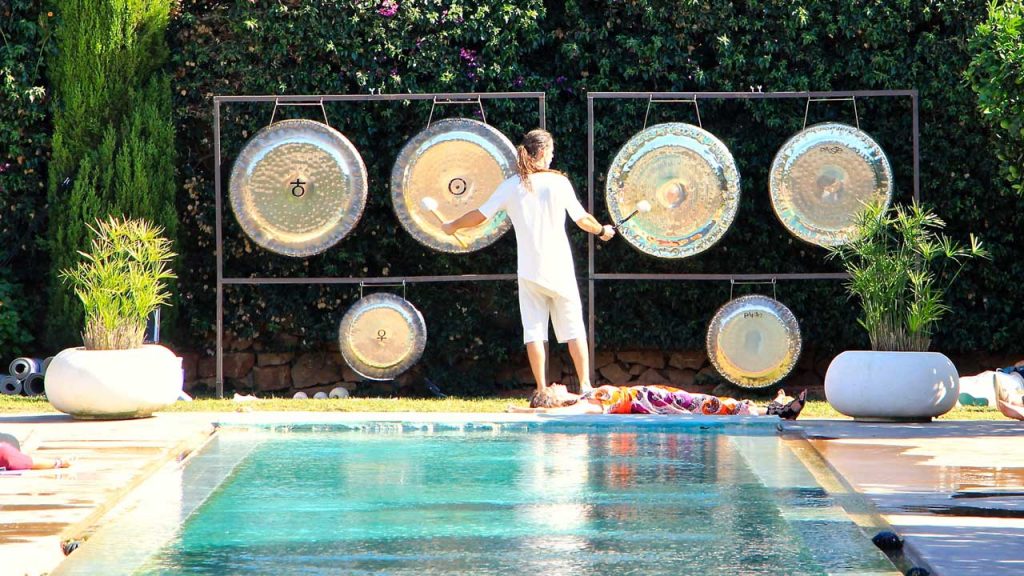 Part 2: Practical training
Duration: 4 hours
The practical training will include the introduction in how to transport, mount and maintain the gongs, how to select the suitable mallet, how to properly hold the mallet and how to play the gong.
Konstantin is playing a very unique set of 6 PAiSTe symphonic gongs (1 brilliant gong and 5 planet gongs) and the training will be focussed on how to play these high-end version of gongs.
Please use the contact form to book your training.
Online Training
The online gong master training is an exchange of emails and media files (photos and videos) between student and trainer.
First, your level of experience will be analyzed by a little video selfie and based on this you will get an email with the analyzation and an in detail explanation how to play in the correct way.
After some practising time, the student will have some questions and record another video selfie, to document the learning process.
Gong master Konstantin will analyze the progress and correct you until satisfaction.
Hourly fee: 80,- Euro
Payment: 100% upfront via PayPal
The minimum duration of the online training is 1 hour, which includes the 2 video selfie analyzations and 1 Email of explanation with a list of homework for the student and 1 Email after second video selfie to correct and optimize the student's technique.
Depending on the expectations and needs of the student, online training can get extended further.
Please use the contact form to book your training.